City Happenings – Hong Kong
Hong Kong is one of the best damn cities in the world. Call us biased, but where else can you get direct access to some of the best cultural, athletic and gastronomic experiences from both East and West? Whether you're visiting town, or are already considered a local, our City Happenings guide will make sure you're up to date on the coolest and most unique experiences in the city. Check out some of the upcoming events. You'll soon see, there's something happening here…
Music & Theatre
Eddie Izzard Force Majeure
Image Courtesy of hkticketing.com
One of the world's funniest comedians is coming to Hong Kong! Izzard has performed his record breaking live comedy in over 30 countries and will perform his show, 'Force Majeure' for the first time in Hong Kong on 23 February 2017.
When: 23 February 2017
Where: Academic Community Hall, Hong Kong
Dragonland Music Festival
Image Courtesy of boom-asia.com
Hong Kong will be the heart of EDM and Pop with this major 3-day outdoor music festival featuring some of the biggest international artists like Iggy Azalea, Black Eyed Peas, Zedd, Redfoo, Steve Aoki, Mike Posner and Hong Kong favorite, Leon Lai.
When:25 & 26 February 2017
Where: Central Harbourfront, Hong Kong
ALTN8 Music Festival
Image Courtesy of ticketflap.com
Reimagining the festival format, ALTN8 is born out of a long running desire to deliver forward thinking and credible electronic music in an intimate urban environment. Working in partnership with some of Hong Kong's best venues to deliver an original culture concept to Asia. We're leveraging existing infrastructure and reallocating resources for new experiences in old places.
When: 11 March 2017 12:00 PM – 12 March 2017 3:00 AM
Where: Central 
HKSEVENS Kick Off Concert
Image Courtesy of ticketflap.com
As part of the HKSEVENS Rugby Week, the HKSEVENS Kick Off Concert will provide the fans with some top-class entertainment!
When: 6 April 2017  6 – 11pm
Where: Indian Recreation Club, 63 Caroline Hill Road,
Sookunpoo Valley, Hong Kong
Art & Culture
 The 45th Hong Kong Arts Festival

Image Courtesy of hk.artsfestival.org 
Heading into its 45th edition, the Hong Kong Arts Festival continues to present a wide array of music, opera, drama and dance performances of both traditional and contemporary creations. Don't miss this chance to catch a legend in action.
When: 16 February to 18 March 2017
Where: Various venues 
Tai Kok Tsui Temple Fair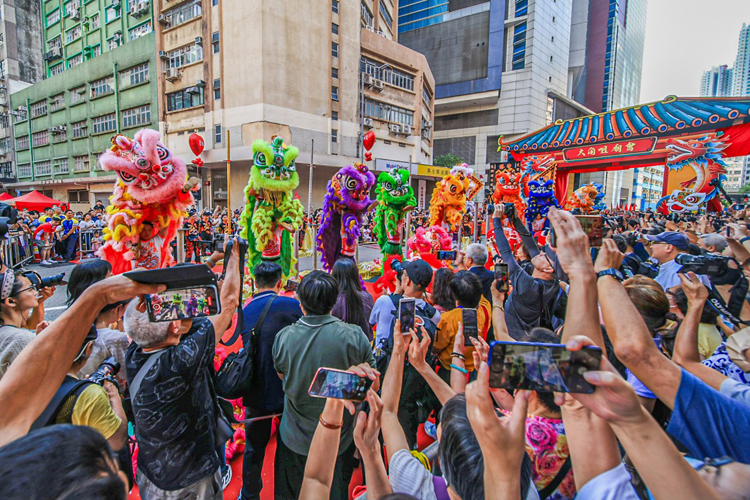 Image Courtesy of tkttemplefair.org.hk
The Tai Kok Tsui Temple fair is a full day of celebrations dedicated to the God of the sea, Hung Shing, worshipped by many fisherman in the southern villages of China back in the days. The day starts with a colourful grand parade followed by Kung Fu shows, a major lions dance and other spectacular cultural performances.
When: 5 March 2017, 10am – 9.30pm
Where: Fuk Tsun Street, Hong Kong
Art Central
Image Courtesy of ticketflap.com
Art Central returns to Hong Kong's Central Harbourfront for its third edition, taking place 21-25 March 2017 (20 March First Night). Staged in a contemporary 10,000 sqm architect designed structure, the Fair will feature approximately 100 leading international galleries, 75% of which will hail from across the Asia Pacific.
When: 20-25 March 2017
Where:Central Harbourfront 
 Food & Dining
Beerfest Asia Hong Kong 2017

Image Courtesy of ticketflap.com
Asia's Premier Beer Festival comes to Hong Kong with 4 days of Great Beer, Food and Entertainment! Featuring International Favourite & Craft Brews from the familiar to the weird & wonderful and over 20 International and local 'Live' bands and DJs.
When: 2-5 March 2017 
Where: Central Harbourfront 
The World's Greatest Restaurant Festival

Image Courtesy of ticketflap.com
Taste is returning to Hong Kong for the second year and will be bigger and better with Kaum at Potato Head, Mercato, Okra, Rhoda and ZUMA  joining last year's favourites Amber, Arcane, Café Gray Deluxe, CHINO, Duddell's, Tin Lung Heen, Tosca and Yardbird. As well as tastings, there will be a gourmet market, live entertainment and Laurent-Perrier champagne-a-plenty. Grab your tickets now at early bird prices, and don't miss out on the fast-selling VIP passes.
When: 16-19 March 2017 
Where: Central Harbourfront 
Sports
Cricket T20 Blitz
Image Courtesy of hkcricket.org
The twenty20 franchise cricket tournament is set for its second edition from 8 March until 12 March 2017. The tournament consists of five teams including local and international players like Yusuf Pathan and Jesse Ryder.
When: 8 March – 12 March 2017
Where: Tin Kwong Road Recreation Ground in Mong kok, Hong Kong